Bhakti RETREAT 2023
from Sunday, 16th July – Saturday, 22th July 2023
with H.H. Sacinandana Swami, H.H. Svayam Bhagavan Keshava Swami & H.G. Badahari Prabhu
Does everyday life catch you without giving you the freedom to break out of the old norms? Do you feel the urge to get closer to your own self?
Then get ready for a spiritual adventure. In Kiental in the hotel of the extra class, we are looking forward to the inner journey together with you. In the Himalayas of Switzerland with foresight, you will experience pure nature.
Whether you come alone or with your family, small or big, it will be exciting for everyone. A professional youth program and a childcare from 4 years care about our teenagers and children.
Experience an invigorating experience for the soul …
Be happy with your mind, your body, your desires, your taste in music, clothing, what you are attracted to – that is you. Now just add Krishna!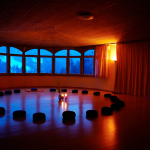 The tranquility of the place and the color-coordinated rooms create the best conditions for learning and relaxing together in the midst of nature. For relaxation there is also a wood-burning sauna and in summer a heated outdoor swimming pool as well as the garden.
The guest rooms are bright and color discreetly designed and create a sense of space of well-being. The house is simple, friendly and furnished with attention to detail. We consciously do without telephones and TV in the rooms. In the village it has only Swisscom reception, a telephone booth is available and from 06.30 – 24.00 is the WLAN switched on, as well as in the common areas throughout.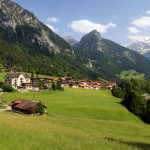 Pristine, striking limestone mountains, an untouched valley and water that can be wild and flow undisturbed. For some, the Kiental is a fantastically beautiful, varied nature reserve with numerous hiking trails and adventure trails; for the others, our home is an enchanting place of power, where earth energy connects with cosmic energy and makes people swing.
16. – 22. July 2023
21. – 27. July 2024