"will be announced"
H.H. Sacinandana Swami
"will be announced"
H.H. Kadamba Kanana Swami
"will be announced"
H.G. Badahari Prabhu

Special program for teenagers
incl. a theater performance
12hr Kirtan
various devotees and guests
Yoga in everyday life
Practical Yoga exercises
Music experiences rhythm
Karatalas, Mridanga, Harmonium
Childcare from 4 years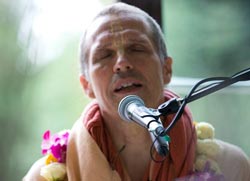 H.H. SACINANDANA SWAMI
Sacinandana Swami has been a monk of the bhakti tradition for over 45 years. He is known for his contributions to the practice of meditation and contemplation of modern bhakti practitioners. Sacinandana Swami has published several books and CDs, and offers a large number of retreats, seminars and workshops. Thousands of enthusiastic fellow singers and dancers attend his worldwide kirtan concerts.
Sacinandana Swami founded the Yoga Is Music Project in 2009 and teaches regularly at the Institute for Higher Education in Vrindavan (VIHE), India. He is a visiting lecturer at Bhaktivedanta College in Belgium and the spiritual mentor of the Vedas Academy, which is active in eight countries. He visits the holy pilgrimage sites of India every year and finds inspiration for his personal life there. His pilgrimages have taken him all over India, in particular he appreciates the sacred land of Vrindavan, the birthplace of Sri Krishna.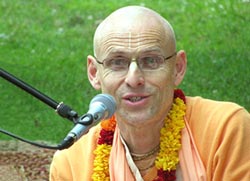 H.H. KADAMBA KANANA SWAMI
Kadamba Kanana Swami started his spiritual life in Vrndavana, the Holy land of Krishna and immediately felt he found his home. He became a disciple of HH Jayadvaita Swami. He joined ISKCON in 1978 shortly after Srila Prabhupada's departure from this world and served in Vrndavana from '78 to '84 in various types of management. After a one year break from India in Australia he returned to India this time to take charge of the construction of Srila Prabhupada's Samadhi in Mayapura and remained there from '85 to '90.
He liked the pioneering spirit of working in India and above all he liked to stay in the Holy Dhama. In 1990 he became the Temple President of the Krsna Balarama temple in Vrndavana and remained in that position untill '95. After that he began to travel and preach around the world and in 1997 he received sannyasa. These days besides preaching in Europe, South Africa, India and Australia, he still has some involvement in supervision of the Vrndavana temple.
H.G. BADAHARI PRABHU
He is disciple of His Divine Grace A.C. Bhaktivedanta Swami Prabhupada. He is known for his inspiring and soulful chants, He has studied and performed Indian devotional music, including Indian classical music and raga since 1975. He artistically blends his many influences to create unique music in celebration of the divine. A sincere practitioner of bhakti yoga, there is a depth to Bada Haridas' music and quality of singing that is simply captivating. He has produced numerous albums. He travels internationally, presenting seminars on Vaisnava songs and devotional practices. He is also a celebrated Kirtan singer and performs at festivals around the world.