"will be announced at the Retreat"
H.H. Sacinandana Swami
"will be announced at the Retreat"
H.H. Krishna Kshetra Swami
"will be announced at the Retreat"
H.H. SB Keshava Swami
"will be announced at the Retreat"
H.G. Badahari Prabhu

Special program for teenagers
incl. a theater performance
12hr Kirtan
various devotees and guests
Yoga in everyday life
Practical Yoga exercises
Music experiences rhythm
Karatalas, Mridanga, Harmonium
Childcare from 4 years
H.H. SACINANDANA SWAMI
Sacinandana Swami is a renowned monk in the bhakti tradition, with over 50 years of experience. He is known for his expertise in the practice of meditation and contemplation for modern bhakti practitioners, and has published several books and CDs on the subject. He also offers a wide range of retreats, seminars, and workshops, and leads kirtan concerts attended by thousands of enthusiasts worldwide.
In 2009, Sacinandana Swami founded the Yoga Is Music Project, and regularly teaches at the Institute for Higher Education in Vrindavan, India. He is also a visiting lecturer at Bhaktivedanta College in Belgium and serves as the spiritual mentor of the Vedas Academy, which operates in eight countries. He regularly visits the sacred pilgrimage sites of India, particularly the holy land of Vrindavan, the birthplace of Sri Krishna, for inspiration in his personal life.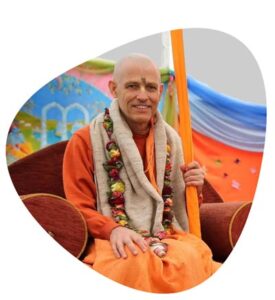 H.H. KRISHNA KSHETRA SWAMI
Krishna Kshetra Swami is a renowned teacher, writer, and traveler who is a disciple of His Divine Grace A.C. Bhaktivedanta Swami Prabhupada, the founder-acharya of the International Society for Krishna Consciousness (ISKCON). Since his formal initiation in 1972, he has served as a missionary, temple priest, and counselor for bhakti-yoga practitioners.
From 1972 to 1976, he was based in Germany, the Netherlands, and Denmark, and then began participating in Vaishnava missionary activities in central Europe. He visited India on pilgrimage almost every year from 1978 to 1995. In 1995, as coordinator of a research group, he compiled and published Pancaratra-pradipa, a manual for Caitanya Vaishnava temple worship. He also served as the minister for deity worship for ISKCON's GBC from 1995 to 2005.
In 2004, after eight years of university study, he received a Ph.D. degree from the University of Oxford for his dissertation on Caitanya Vaishnava image worship. This dissertation is now available from Routledge Publishers as the book "Attending Krsna's Image: Caitanya Vaisnava Murti-seva as Devotional Truth" in the Routledge Hindu Studies Series.
Krishna Kshetra Swami is now a Research Fellow of the Oxford Centre for Hindu Studies and has been teaching at Bhaktivedanta College, Radhadesh since 2002. He has also taught survey courses in Indian religions and Asian religions at the University of Florida and at the Chinese University of Hong Kong. Since then, he has been giving lectures at several universities in China.
In addition to his academic work, he travels extensively and teaches about spiritual life in the Vaishnava devotional tradition coming from Sri Caitanya.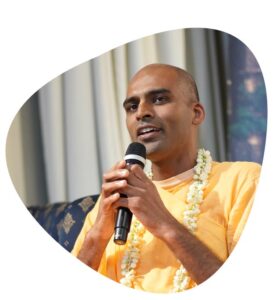 H.H. SVAYAM BHAGAVAN KESHAVA SWAMI
Svayam Bhagavan Keshava Swami is a renowned spiritual author and mentor who travels the world. After completing his BSc in Information Management at University College London in 2002, he dedicated his life to expanding his spiritual knowledge and sharing timeless principles with society.
For over 20 years, Keshava Swami was a resident monk at ISKCON UK's Bhaktivedanta Manor, where he established the School of Bhakti and led the monastic training program. He has also designed various courses on Vedic theology, lifestyle management, and spiritual self-development, and has authored 10 books bringing ancient wisdom to modern contexts.
In 2022, Keshava Swami took vows of lifetime renunciation and now travels the globe, teaching at universities, corporations, government organizations, and spiritual communities, bringing wisdom to those who need it most. He continues to study Sanskrit texts, working to spread spiritual understanding in a world increasingly consumed by materialism.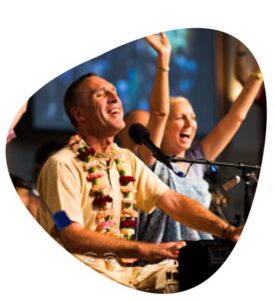 H.G. BADA-HARIDAS PRABHU & H.G. KOSARUPA
Known for his inspiring and soulful chants, Bada Haridas has studied and performed devotional music and Kirtan since 1975. Bada Haridas artistically weaves together his many influences, creating unique music for his kirtan chants. As a sincere practitioner of bhakti yoga, there is a depth to his music and a quality of his singing that is both inspiring and healing.
Living as a monk in the Los Angeles ashram, accepting vows of austerity and sense control, his musician life and its trappings quickly became a past life, devoid of maya's glitter. In its place, Kirtan, the devotional singing of Krishna's names, became his music and his personal connection to the divine. Learning the Sanskrit and Bengali songs and prayers, studying the ancient melodies and ragas, and teaching himself eastern instruments to accompany kirtan, Bada Haridas became a sought after kirtan leader and teacher.